About us
Thai Palm is located at 308A Pacific Highway, Crows Nest NSW. For your convenience, we offer pickup, delivery and online ordering services. Just click on the "Order Online� button and select your orders from our menu. You can choose from our wide selection of Thai dishes including Angel Prawn, Satay, Curry Puff, Vegetarian Spring Roll, Taw Hu Tod, Crispy Squid, Tom Yum, Tom Kah, Green Curry, Red Curry, Panang Curry, Red Curry Duck, Tang Beef, Yang Chicken, Larb, Yum Hua Plee, Pa Low Beef, Spicy Crab, Spicy Dory, Pad Basil, Pad Ginger, Pad Taw Hu, Pad Thai and many more.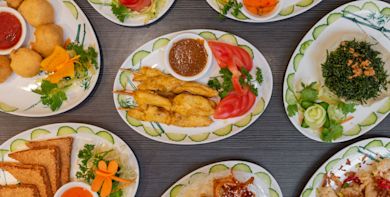 Reviews
Sophie
"Best Thai Ive ever had!!!"
19/01/2020
Sarah
"Tasty, and a little different to the run of the mill Thai places. Has some interesting dishes and everything we've tried has been good."
13/12/2019
Nick
"Food really good - running a bit late on delivery though."
12/12/2019